September 8 - 11, 2022
Port Orchard (near Seattle), Washington
-=-

ABC's in-person camp was cancelled for 2020 and 2021 due to the pandemic so we held online events instead (see the online event page), but we are planning an in-person camp at Pilgrim Firs for September, 2022.

It's possible to stay offsite and still take part in our program as a "commuter."
See the Commuter Option on the Lodging page for details.
Members of WAMA (Washington Acoustic Music Association), OBA (Oregon Bluegrass Association), or WBA (Washington Bluegrass Association) who are new to ABC are eligible for the WAMA/OBA/WBA New Member Refund of $50 at check-in!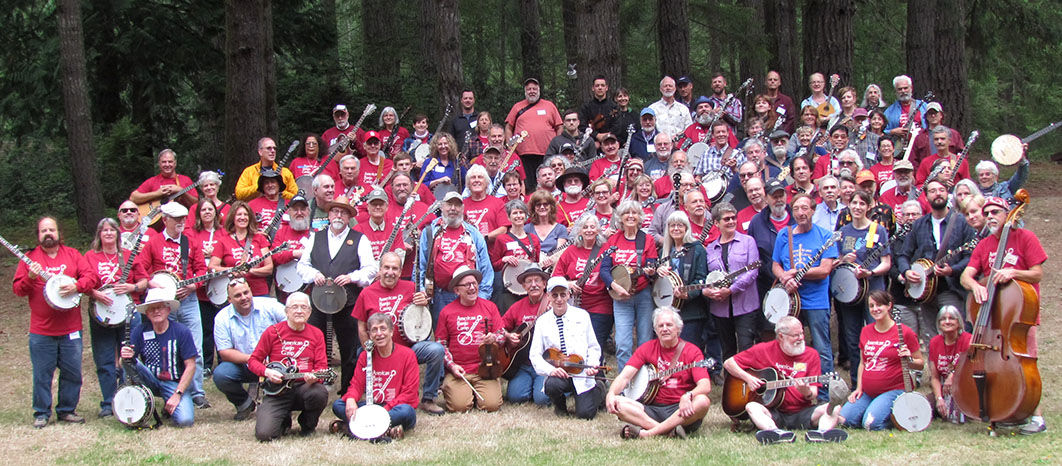 Saturday, September 8th, 2019 -- (click for higher-res version)
The American Banjo Camp takes place on the first weekend after Labor Day each year at a camp on the Puget Sound. ABC is a camp for adults of all ages (students under 18 may attend if accompanied by a parent). There you can study old-time or bluegrass banjo with world-class instructors. We also have full-time programs in fiddle and flatpick guitar plus workshops in bass, mandolin, voice, and other instruments (see the schedule).. American Banjo Camp is committed to offering highly specialized workshops tailored to the expertise of our faculty.
American Banjo Camp starts mid-afternoon on Thursday and runs through lunchtime on Sunday. Our format allows us to use our time efficiently and gives us an opportunity for a bit of breathing room. Here are just some of the features:
+ A student orientation is held right after dinner on Thursday evening.
+ Thursday gives time for entertaining and informative "demonstrations" as well as our student open mic and band scramble.
+ Hands-on classes start first thing Friday morning.
We also offer a Weekend-Only Option.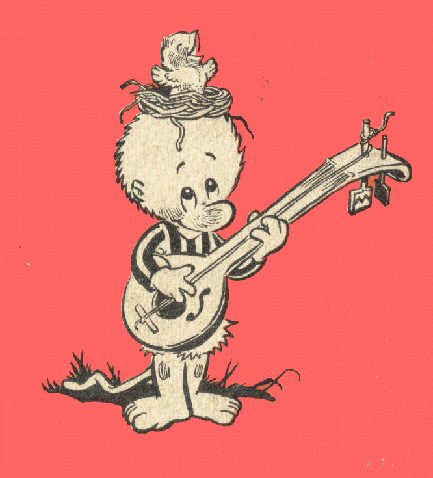 We pride ourselves on having teachers that are among the best in the world! It's just frosting on the cake that they're also among the world's best players. See their biographies here.
We try to keep the tuition and other costs as low as possble while providing priceless instruction and inspiration. We can also offer a limited number of scholarships. We have forms to register for camp and to apply for a scholarship.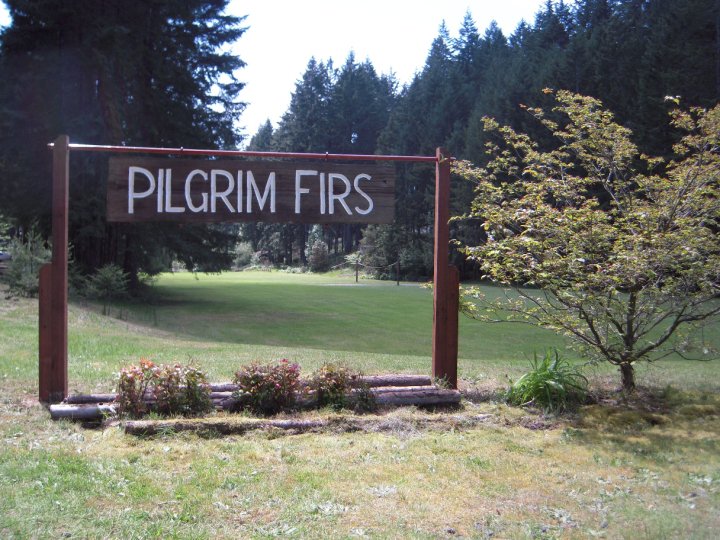 ABC's site is the Pilgrim Firs Conference Center near Port Orchard, WA—on the Olympic Peninsula. Pilgrim Firs—a "colony" of cabins and lodges nestled among tall conifers surrounding a private lake—is a sylvan but modern facility. Sleeping and bathroom facilities are clean and comfortable as are classrooms, dining hall, and social spaces such as the rooms where people can comfortably jam after hours. And if inclement weather ever comes our way, all of our events can move inside. Our location is relatively close to SEATAC airport (making for easy arrivals and departures), and it is accessible to Seattle proper.
For more specifics on our site, go to the Pilgrim Firs Website.
Most of the things you need to know when you're getting ready for American Banjo Camp – how to get to camp, what to bring, songs to play in jams, etc. – are on the Camp Info page.
If you have a question, check the Frequently-Asked Questions page. Somebody may already have asked it! If you don't have a question yet, look there and you may find one.
Videos are available from past workshops taught by these ABC instructors:

| | | |
| --- | --- | --- |
| Teacher | Style | Dates (click for titles) |
| Alan Munde | Bluegrass | 12/12/20, 9/11/21, 9/12/21 |
| Alison Brown | Bluegrass | 2/13/21 |
| Allison de Groot | Old-Time | 4/10/21 |
| Casey Henry | Bluegrass | 9/11/21, 9/12/21 |
| Frank Evans | Bluegrass | 5/8/21 |
| Gina Furtado | Bluegrass | 12/12/20 |
| Greg Cahill | Bluegrass | 12/12/20, 9/11/21, 9/12/21 |
| James McKinney | Bluegrass | 5/8/21 |
| Jeff Scroggins | Bluegrass | 12/12/20, 9/11/21, 9/12/21 |
| Ken Perlman | Old-Time | 1/9/21, 4/10/21, 9/11/21, 9/12/21 |
| Kristin Scott Benson | Bluegrass | 2/13/21, 5/8/21 |
| Lukas Pool | Old-Time | 1/9/21, 9/11/21, 9/12/21 |
| Mike Munford | Bluegrass | 2/13/21 |
| Mike Stahlman | Bluegrass | 2/13/21 |
| Molly Tenenbaum | Old-Time | 1/9/21, 9/11/21, 9/12/21 |
| Paul Brown | Old-Time | 4/10/21 |
| Riley Baugus | Old-Time | 4/10/21 |
| Stephen Wade | Old-Time | 1/9/21, 9/11/21, 9/12/21 |
| Tom Adams | Bluegrass | 5/8/21 |
ABC has been running since 2003; we have photos and other information about past camps. The Misc page also has (or will soon have) ABC posters you can print out, and links to other music-related web sites, as well as a place to get ABC T-shirts, mugs, etc.
Directors & Coordinator
Co-director Peter Langston directs the California Bluegrass Association's Summer Music Camp as well as the American Banjo Camp. He won an award for his work running the Puget Sound Guitar Workshop. Peter grew up during the urban "folk scare" of the 50s and 60s and has played bluegrass and old-time music on a range of instruments for more than 50 years.

Co-director Ken Perlman has served as music director for several banjo-teaching camps and festivals, including the Maryland Banjo Academy, Banjo Camp North, the Bath Banjo Festival, Midwest Banjo Camp, and Suwannee Banjo Camp. He is also on the old-time faculty for the American Banjo Camp, specializing in melodic clawhammer banjo.

Coordinator Tina Webster grew up in Portland Oregon in a household where classical music and European folk music were part of her education. She studied banjo with Alan Munde, Alan O'Bryant, Mike Stahlman, and Bill Keith and is both a medical lab technician and a private pilot. Tina now directs the California Bluegrass Association's Summer Music Camp and lives in Seattle, Washington where she helped found the band 3 Play Ricochet in which she sings and plays banjo and guitar.
If you have a question or suggestion, please get in touch with us. And do let us know if something doesn't appear to be working on the website. Thanks!
---
| | |
| --- | --- |
| ABC is sponsored by | |
This page was last modified on November 04 2021 at 12:57:08.
The visitor count stands at: 401,392.
© 2021, ABC & Peter Langston