Faculty
ABC offers full-time tracks in Old-Time Banjo, Bluegrass Banjo, Fiddle, Guitar, and Mandolin. ABC also offers workshops in other instruments (e.g. bass) and in jamming. While an old-time banjo student will be faced with a choice among multiple simultaneous old-time banjo workshops in every period, even a student playing an instrument with just one or two workshops will find other interesting workshops (jamming, singing, etc.) and hosted jams (and time for practicing) to fill the time and make the weekend seem much too short!
The faculty for 2023 is currently being selected
What follows is a listing of last year's teachers.
ABC Faculty in 2022
---
Teacher Bios

Bluegrass Banjo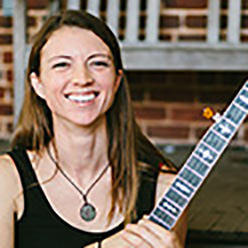 Born and raised in the Shenandoah Valley, Gina Furtado began her musical journey at age 5 with Classical piano lessons. Upon discovering the banjo several years later at the Galax Fiddlers Convention, she quickly changed gears along with her siblings, and they began touring up and down the east coast as what Bluegrass Today has dubbed "the absurdly talented Furtado Family." Gina has played with a number of bands, including Blue Light Special, New Girls Night Out, Nash Street, and Bud's Collective, and currently tours full time with Chris Jones and the Night Drivers. She is a featured artist on "The Patuxent Banjo Project," and has recorded on over half a dozen albums to date, including her own solo project which was released in 2017. Her fresh approach to the banjo demonstrates a strong focus on musicality, dynamics and precision, and she is accomplished in a variety of styles ranging from Scruggs to melodic and beyond. As a teacher, Gina is down to earth and a strong believer in teaching primarily by ear. She has taught at the Murphy Method Banjo camps, Suwannee Banjo Camp. and at many other camps and workshops.

Gerald Jones, life-long Texan, has been involved with the performing, production and teaching of music for over 30 years. He's a skilled player in many different styles including bluegrass, western swing, country, classical, jazz, and Polish war hymns... He's played or recorded with with Jim "Texas Shorty" Chancellor, Mark O'Connor, Vince Gill, Sam Bush, Hank Thompson, Red Steagall, Jerry Douglas, Junior Brown, and many more. Gerald invented the Acoustic Plus pickup used by Earl Scruggs, Bela Fleck, Alan Munde, Bill Keith, and many other great banjo players. Gerald is also a favorite instructor at many bluegrass and roots music camps around the nation, teaching banjo, mandolin, and many special topics such as "Jam Survival Skills." Joe Carr said of Gerald, "Students love him because he jams a lot with them and teaches as much out of class as in!"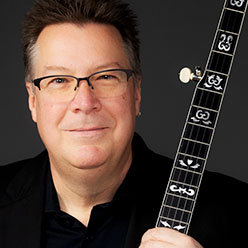 Ned Luberecki is one of today's leading players and teachers: a master of the five-string banjo who is adept in both modern and traditional styles. In 2018 he was voted Banjo Player of the Year by the International Bluegrass Music Association (IBMA). He has taught hundreds of players at most every major banjo and bluegrass music camp in the world and his Complete Banjo Method, in three volumes from Alfred Music, and video banjo courses from TrueFire.com aregarnering rave reviews. Ned tours internationally with the award-winning Becky Buller Band and in Nedski & Mojo, his duo with Sam Bush band guitarist Stephen Mougin. Ned counts as his influences not only the usual banjo heroes with names like Earl, J.D. and Tony but also Eddie Van Halen, Stevie Ray Vaughn, Oscar Peterson and Dave Brubeck. These diverse influences emerge in his unique, sometimes whimsical approach that draws from rock, jazz and television themes (!) as well as bluegrass. Ned's latest release is the critically acclaimed CD Take Five. Learn more about Ned at Nedski.

James McKinney is both a Scruggs and Reno style expert, one of the foremost jazz players of th e bluegrass banjo world, and one of the most technically precise banjoists around. He won the Southern U.S. Banjo Championsh ip at age 15. Before long he had won dozens of state and regional championships, including the National Banjo Championship at Winfie ld, Kansas. He made the first of several appearances on the Grand Ole Opry at age 19 and worked for a time at Opryland theme park as a banjoist and musical arranger. James moved to Nashville for good in 1990 to play full time in the James and Angela McKinney B and. He has taught countless workshops, and he has been on the staff at a number of major banjo camps, including the Midwest Banjo Camp, Suwannee Banjo Camp, Smokey Mountain Banjo Academy, and the SPBGMA workshop. He has performed and/or recorded with Vassar Clements, Porter Wagoner, Barbara Mandrell, John Hartford, and Johnny Cash. His latest CD is called "Mind Over Banjo."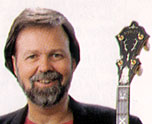 Alan Munde needs no introduction to long-time Bluegrass fans. From his early creative work with Sam Bush in Poor Richard's Almanac to his traditional bluegrass apprenticeship with Jimmy Martin and the Sunny Mountain Boys to his 21-year stint anchoring the landmark Country Gazette, Alan has blazed a trail as one of the most innovative and influential banjo players of all time. Along the way, Alan also recorded and contributed to numerous instrumental recordings, including the 2001 IBMA Instrumental Album of the Year -- "Knee Deep in Bluegrass." Alan has supplemented his recorded work with several instructional publications for the banjo; from 1986-2006 he taught Bluegrass and Country Music at South Plains College in Levelland, Texas.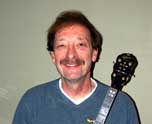 Mike Stahlman is a Portland, Ore. banjo player whose playing style was heavily influenced by Earl Scruggs and Alan Munde. Mike has taught bluegrass banjo at Portland Community College in Portland since 1997, and currently plays banjo and tours with the Oregon-based Lee Highway. He also plays with The Loafers. Mike has recorded two banjo instrumental CD's -- "Bluebonnet," and "First Dance."
---

Old-Time Banjo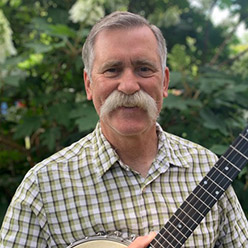 Jerry Gallaherhas been playing old time banjo in the Northwest for over 50 years. As part of his college education he studied banjo and country music at the Evergreen State College. Some of his favorite players and biggest influences are Wade Ward, Fred Cockerham, Tommy Jarrell, and Kyle Creed. In the 1980s he formed The Hurricane Ridgerunners with Mark Graham, Paul Kotapish, and Armin Barnett. An album of their music can still be found on the Field Recorders Collective. More recently he is featured on the album "Piney Woods" with Forrest Carroll. Besides a career as a math teacher Jerry has taught banjo at The Festival of American Fiddle Tunes, Berkeley Old Time Music Convention, Weiser and Pinewoods. Now that he is retired he has more time to play fiddle and banjo with friends and at festivals, quilt, garden, swim, and kayak.
Sara Grey is widely known and respected – both as singer of traditional ballads and songs, and as a powerful, yet lyrical old-time banjo player. Although she grew up in New Hampshire, she was exposed to old-time Appalachian music during her childhood when her father was in the military and stationed in North Carolina. While still in her twenties, she joined a circle of traditional singers called the Golden Ring, which also included such folk-music notables as Ed Trickett and Gordon Bok; many of them would go on to record for Folk Legacy, a prestigious independent label (Sara's banjo playing on her first Folk Legacy LP, Sara Grey with Ed Trickett would deeply inspire ABC Co-Director Ken Perlman). She moved to Scotland in 1970 and over the next few decades became a major fixture of the British folk scene. Sara often performs at folk festivals in the States, the UK and the European continent, and she teaches at traditional music camps and schools around the world. She now makes her home in Rockland, Maine.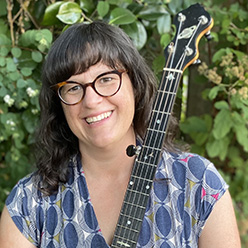 Maggie Lind has been singing and making music her whole life. She got a banjo as a teen and soon met and learned from renowned musician Tom Sauber. She became enthralled with the tunes, dancing, old recordings, stories, and community that go hand in hand with old-time music. After visiting elder tradition bearers such as Joe Thompson, Charlie Acuff, and Clyde Davenport, she was inspired to play fiddle and call dances as well. Maggie has been teaching clawhammer banjo in Portland for 20 years. She has taught hundreds of students in her popular Portland String Band Class and has taught and performed at the Festival of American Fiddle Tunes, Dare to be Square - West!, Portland Old Time Music Gathering, Berkeley Old Time Music Convention, and Wallowa Fiddle Tunes Camp. She believes playing music is our human birthright and delights in helping others join in the fun.

Perhaps the best-known exponent of the "melodic" clawhammer style, Ken Perlman is known wherever banjos are played as a master of clawhammer technique and an expert teacher of clawhammer mechanics. He has been a Banjo Newsletter columnist for 20 years; he has written several books on clawhammer instruction including the well known works Melodic Clawhammer Banjo and Clawhammer Style Banjo, he has recorded several series of audio and video banjo instruction, and he has taught at well over a dozen music camps including the Festival of American Fiddle Tunes, the Puget Sound Guitar Workshop, Rocky Mountain Fiddle Camp, Common Ground on the Hill, and the Tennessee Banjo Institute.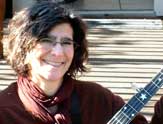 Molly Tenenbaum began playing old-time clawhammer banjo as a teenager, and has since played for square dances and dance camps around the Pacific Northwest with The Queen City Bulldogs and Dram County. She has a songs-and-tunes duet with her brother, Dan Tenenbaum. She's taught banjo at camps including the Rocky Mountain Old-time Music Festival, the Festival of American Fiddle Tunes and the Puget Sound Guitar Workshop, and teaches regularly at Dusty Strings Music School in Seattle. Her recordings are Instead of a Pony and Goose and Gander. She loves the intertwine of the banjo and fiddle more than just about anything, and is at her happiest when her banjo is guessing what the fiddle will do at the same time the fiddle does it.

Stephen Wade is a wildly versatile banjo player whose music equally effective in concert and theatrical settings. As noted in Bluegrass Unlimited, he "is arguably the best nongrass five-string banjo player around. His loyal following includes people who saw Banjo Dancing, his one-man stage show created from folksongs, stories, banjo tunes, and his own personal insights. Among other venues, he presented it nightly at Washington's Arena Stage for ten years, before his On the Way Home succeeded it for several more. The Beautiful Music All Around Us, his widely-acclaimed book, includes the origins of "Rock Island Line," "Goodbye, Old Paint," and "Bonaparte's Retreat," and demonstrates that the stories behind them can be as absorbing as the songs themselves."
---

Fiddle, Guitar, Bass, Mandolin, & Other Instruments

David Cahn is a versatile instrumentalist who has played banjo, guitar, fiddle, mandolin, bass, and accordion in numerous bands over the past twenty years. He's toured with Rodney Miller and appears on two of his CDs which include several of David's original tunes. He's also recorded with Clyde Moody, Charlie Moore, Wade Mainer, Helen Carter, and Mark Simos, and is featured on the Rounder recording "Young Fogies II" with his old-time band, "The Queen City Bulldogs" (the Bulldogs won first place in the band competition at Clifftop in 1994). He has taught at the Puget Sound Guitar Workshop, Pinewoods, Augusta, the Festival of American Fiddle Tunes (where he led the beginners' band lab for twenty years),and many other camps and festivals around the country and abroad.

Peter Langston will play anything with strings on it (even the banjo!). He has played in bands on both the East Coast (Metropolitan Opry, Wretched Refuse) and the West Coast (Puddle City, Entropy Service, Portland Zoo), and has performed with such notables as Doc Watson, Reverend Gary Davis, Tony Trischka, Peter Rowan, Chill Wills, Alison Brown, Johnny Gimble, and Mike Seeger. He appears regularly with bluegrass/Americana band 3 Play Ricochet.
Peter has led a double life as a musician and a computer whiz and has taught audio recording, computer science, and songwriting at the college level. WEB SITE

Mick Nicholson started out as a tuba player, and was a member of the Bremerton Symphony for 6 years. While a Navy musician in the 1970s, he led several jazz and rock bands as an electric bassist touring thoughout the Pacific. In order to concentrate on the upright bass, Mick joined the Washington, DC Navy Band in 1984, culminating with a four year stint in the navy's premier Country/Bluegrass group, "Country Current." Mick moved back home to the Northwest in 1995 and quickly became an active player in the local acoustic music scene. Comfortable with a wide variety of styles, he has gigged with artists ranging from Vince Gill to Dizzy Gillespie. Presently, he is a member of "Me and the Boys" (bluegrass), "The Don Alverson Quintet" (jazz and dixieland), and "The Less Paulish Trio" (Django on steroids). In addition, Mick freelances as an electric and acoustic bassist and teaches at various band camps and workshops. He also plays a mean tuba, though he does not endorse or receive any remuneration from the Mean Tuba Company.
Steve Pottier has been playing and teaching guitar in the Bay Area for many years. He has taught at camps including CBA, CCMC, Bluegrass at the Beach (OR), Camp Bluegrass (TX), and Walker Creek. Steve was a regular columnist for Flatpicking Guitar Magazine and recorded the critically acclaimed (by some) CD "Bluegrass Guitar Duets" with Sandy Rothman.

The son of a National Banjo Champion, Tristan Scroggins was surrounded with bluegrass traditions from birth. Having performed everywhere from rural bluegrass festivals to the Grand Ole Opry, Tristan was awarded the prestigious Instrumentalist of the Year Momentum Award by the International Bluegrass Music Association in 2017 and the inaugural Freshgrass Mandolin Award in 2019. With a signature raw mandolin groove, bold fashion sense, charismatic yet soft spoken confidence, and keen sensitivity to style and artistic innovation, twenty-four year old mandolinist Tristan Scroggins is quickly becoming a highly influential voice of both music and community in the world of bluegrass. Tristan has taught at camps and workshops across the U.S., Canada, and Europe for the better part of the last decade.

Bobby Taylor is a fourth generation West Virginia fiddler. He plays several styles of old-time and contest fiddling, but got his start from the legendary fiddler Clark Kessinger, who is considered one of the fathers of bluegrass fiddling. Bobby was the 1977 West Virginia State Open Fiddle Champion. In 2003, Bobby received the Footbridge Award from FOOTMAD (Friends of Old-Time Music and Dance) for his contributions to old-time music. In 2010, he was presented the Vandalia Award - West Virginia's highest folk-life honor - by the West Virginia Division of Culture and History. Bobby has been the coordinator of West Virginia's Vandalia Gathering contests in Charleston, WV since 1979. He was the contest coordinator of the Appalachian Open Contest from 1984 through 1987, and for many years he has served as the contest coordinator at Appalachian String Band Music Festival (often known as "Clifftop"). Bobby is also a noted fiddle contest judge; he has judged the Tennessee, Ohio, Kentucky and West Virginia state championships, and is a regular judge at the Old Fiddler's Convention in Galax, VA. He has judged the Grand Master Fiddle Championship in Nashville, TN five times from 2006-2010. In 2008, he served as a judge at the Grand National Fiddle Championship in Weiser, ID. Bobby has taught fiddle workshops at the Augusta Heritage Center and at Allegheny Echoes in West Virginia. He currently presents historical showcases on fiddle styles with his old-time band "Kanawha Tradition." His website is http://www.btfiddler.com
---
Return to the ABC home page
© 2015—2022, ABC & Peter Langston