Miscellaneous
American Banjo Camp held its first session on the weekend of September 5 - 7, 2003 at Fort Flagler State Park on Marrowstone Island in the Puget Sound. It was a big success! Every year since then, on the weekend following Labor Day the camp has been held, at Fort Flagler from 2003 to 2015 and at Pilgrim Firs in Port Orchard from 2016 until the present. Photos and quotes from past years is online here.
---
There's a lot more to banjo culture than just banjo jokes. There are thoughts from great (and not so great) thinkers, cartoons, news items, and of course endless discussions of strings, mutes, capos, picks, and gear in general. You'll find some of that here.
---
Promotion
Banjo Camp thrives on the enthusiasm and cooperation of all its attendees. The simple act of leaving some handbills at your local acoustic music store, or putting up a poster at a concert, or giving handbills to your musical friends can really help ABC survive. Please feel free to print out the posters or handbills below.
| | |
| --- | --- |
| ABC 2019 Poster | ABC 2019 Handbills |
You can print out the poster PDF file and give copies to friends or leave them at the local music store to help us get the word out about ABC. The more people that come to ABC the more teachers we can hire!
---
Click for a closeup: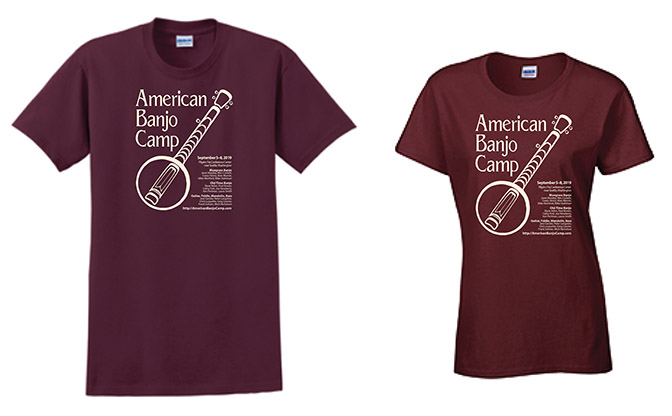 The T-shirts are all cotton, maroon this year with an off-white design on the front. Most sizes are available in men's and women's ("Ladies") cut. The examples above are a men's large and a women's small. Long sleeves are also available. You can order the current T-shirt when you register for camp and it will be ready for you to pick up when you arrive.
You can also find a wide selection of ABC clothing, cups, and other items (a Bill Keith clock with the circle of fifths on it, or even an ABC thong!) here.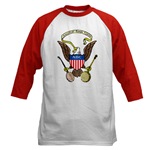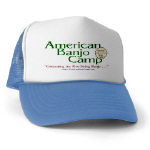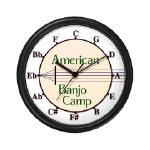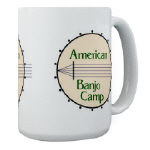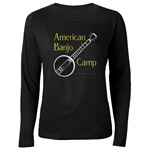 ---
Links to other interesting camps and music-related organizations
---
Miscellaneous Cool Items
Jenny Glover's fine Fiddletails blog features a tune, "Sadie at the Back Door," written by Jere Canote and performed at ABC in 2009. Here's a link to her blog.
What does music do to your brain?
This YouTube Video explains a lot!
---
Return to the ABC home page
© 2016, ABC & Peter Langston