ABC History
The American Banjo Camp has been presenting a yearly bluegrass and old-time 5-string banjo workshop since 2003. Over the years the curriculum has expanded to also include guitar, fiddle, bass, and jamming, with a smattering of ukulele, mandolin, and other classes along the way.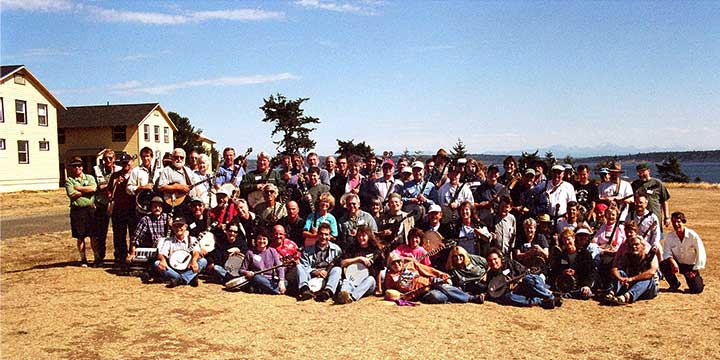 ABC Group Picture at Ft. Flagler in 2003, our first year
Instructors
ABC prides itelf on the teaching abilities of its faculty. Each year brings some new teachers and many old ones, but all chosen for their teaching skills and ability to inspire the students. Here is a listing of the teachers from the first dozen years of ABC.
Bluegrass
Old-Time

Alan Munde

Molly Tuttle

Adam Hurt

Jere Canote

Alan O'Bryant

Murphy Henry

Alan Jabbour

Ken Perlman

Bill Evans

Ned Luberecki

Bob Carlin

Laura Boosinger

Bill Keith

Orville Johnson

Brad Leftwich

Laura Smith

Chris Luquette

Pat Cloud

Bruce Molsky

Mac Benford

Danny Barnes

Patrick Sauber

Cathy Barton Para

Michael Miles

David Keenan

Paul Elliott

Cathy Fink

Mike Seeger

Eddie Adcock

Pete Wernick

Clarke Buehling

Molly Tenenbaum

Gerald Jones

Peter Langston

Dan Gellert

Paul Brown

James McKinney

Peter Schwimmer

David Cahn

Reed Martin

Janet Beazley

Ryan Cavanaugh

Debby McClatchy

Riley Baugus

Janet Davis

Tom Adams

Greg Canote

Tom Sauber

Mick Nicholson

Vivian Williams

Howie Bursen

Mike Stahlman

Jason Romero
---
Return to the ABC Miscellaneous page
Return to the ABC home page
© 2014, ABC & Peter Langston